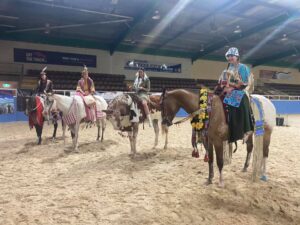 Perth Regional Appaloosa Club History
The Perth Regional Appaloosa Association was formed on the 25th September 1975 following a meeting at the Perth Royal Show. At the club's first Annual General Meeting on the 7th February 1976, the club formally adopted the name of the Central Regional Appaloosa Club (CRAC).
In August of 1979, a breakaway group formed a club in the southwest of the state. On the 29th of April, 1980, the club's name was changed to Perth Regional Appaloosa Club (PRAC). The breakaway group disbanded early in 1983 and re-joined the PRAC.
The newly named Perth Regional Appaloosa Club held its first State Championship Show in 1980.
For the past 38 years years the club has held regular competitions, annual state championships shows, hosted clinics by local, national and international clinicians and grown in membership.
The members and committee of the Perth Regional Appaloosa Club are dedicated to raising awareness of our magnificent and unique horses and helping them achieve their best, in and out of the show ring.